Dental Crowns – Carrollton, TX
Repair Broken & Weakened Teeth Seamlessly
Even though tooth enamel is harder than your bones, there are plenty of ways to damage it. Unfortunately, unlike your bones, enamel cannot heal itself once it has become weakened or damaged. The compromised tooth will just continue to become more damaged over time, putting you at a higher risk of a dental infection or irreparably damaged pearly white. At DD Family Dentistry of Carrollton, we can repair broken and weakened teeth seamlessly with beautiful, custom-made dental crowns! These simple restorations will enhance the look and function of your tooth while protecting it from further issues. Read on to learn more and give us a call today to schedule your next appointment.
What Is a Dental Crown?

A dental crown is a tooth-shaped cap that encapsulates the entire portion of a tooth above the gumline. This holds the weakened tooth together and strengthens it. Not only does this keep the damage from advancing, but it protects the exposed inner layers of the tooth from infection as well. Dental crowns are made of dental porcelain, which is well-known for its resilience and ability to look just like tooth enamel. Your dental crown will be shaded to match the color of your teeth and carefully crafted to look as lifelike as possible, so the end result will blend in seamlessly with the rest of your smile.
Dental crowns are often used for teeth that are:
Cracked, broken, or fractured
Weakened by severe decay or a large filling
Naturally small or misshapen
Repaired with a root canal
Missing and replaced with a dental implant
The Process of Getting a Dental Crown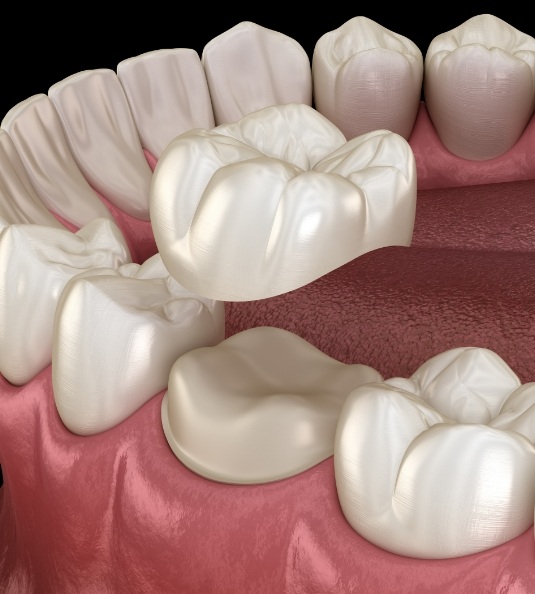 Getting a dental crown typically takes two appointments. First, we'll prepare your tooth by roughening its surface and removing just enough enamel to allow room for the crown. Then, we'll take impressions of the area and fit you with a temporary crown. You'll wear this crown for about a week or two while the impressions are used to create your custom-made crown. Then, once we receive it, we'll call you back into our office to have your temporary crown removed and your permanent crown cemented into place. We'll check to make sure your bite feels comfortable and that you're pleased with the results, and then you'll be all set to go out and enjoy your newly repaired smile!
Benefits of Getting a Dental Crown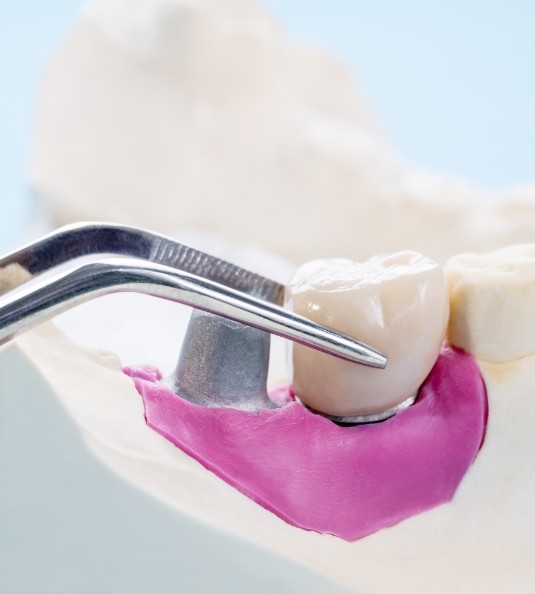 If you're looking for a reliable, cost-effective, and natural-looking way to repair your broken or weakened tooth, there's simply no better choice than a dental crown in Carrollton. If you choose to repair your smile with a dental crown, you can enjoy benefits like:
No more pain, discomfort, or sensitivity when eating or talking
Protect the tooth from worsening damage and future infections
Avoid the need for a root canal or tooth extraction in the future
Beautiful, lifelike results that look just like a natural tooth
Durable construction that resists breakage and can last for many years
Dental Crown FAQs
Have you been told that you're in need of a dental crown? You may still have some unanswered questions about the procedure, so we're here to help. Here are the answers to some of the most common queries we receive about dental crowns in Carrollton. If you don't see the information that you're looking for below, give us a call. We'd be happy to walk you through the procedure so you know what you can expect.