May 25, 2017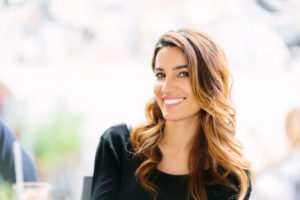 If you could hit the (imaginary) do-over button on your smile, would you? Your cosmetic dentist, Dr. Durga Devarakonda, offers the option with transformative porcelain veneers. They are a wonderful solution for any number of cosmetic issues affecting the front teeth — and veneers could be just the thing to help you feel totally confident in your appearance. They're natural-looking, customizable, and they last for years and years. Keep reading to learn more about porcelain veneers in Carrollton, then request an appointment to get started on your own smile transformation!
What Are Porcelain Veneers?
Porcelain veneers are thin, tooth-shaped restorations that are bonded onto the front side of the teeth that show when you smile, where they cover up any number of cosmetic imperfections all at once. Dental veneers are fully customizable to match the precise size, shape, and color that suit each patient's facial features the best. For their ease of application and transformative results, porcelain veneers are quickly becoming one of the most popular cosmetic dentistry treatments in DFW — and you can find high-quality veneers right here at DD Family Dentistry.
What Can Veneers Fix?
Dental veneers can correct any number of cosmetic imperfections on otherwise healthy teeth. However, teeth that are weak, worn, or decayed are usually better served by a sturdier restoration like a dental crown.
With veneers, your dentist in Carrollton regularly helps patients improve the appearance of teeth that are…
Chipped or cracked

Misaligned

Slightly gapped

Off center

Too short

Oddly textured

Stained and do not respond to teeth whitening
But Wait, Isn't Porcelain Fragile?
Even though you may associate porcelain with breakable china or other delicate items, veneers that are constructed of dental porcelain are just as sturdy as your natural tooth enamel. Sure, they may not withstand being dropped from the roof or survive a blow with a hammer, but your natural teeth wouldn't, either. After veneers are bonded onto the teeth, you can expect them to withstand the natural forces your smile is exposed to on a daily basis, like biting, chewing, and speaking.
How Long Do Veneers Last?
With proper care, your porcelain veneers can usually be expected to last for more than a decade. While cavities cannot form on dental porcelain, the teeth behind them can. And your gums are always vulnerable to infection. Prevent both with solid dental hygiene, including brushing gently for two minutes, twice a day, and flossing daily. Continue to visit your dentist every six months for a routine checkup and cleaning. If you play sports or grind your teeth at night (a.k.a. bruxism), it's wise to protect your veneers from impact with a custom-fitted mouthguard.
Notify your dentist right away in the event that a veneer feels loose or breaks — a replacement veneer is needed.
Schedule an Appointment Today!
Are you interested in transforming your smile with porcelain veneers? Your dentist in Carrollton can't wait to help. Request an appointment to discuss your cosmetic dentistry options at length today.
Comments Off

on Porcelain Veneers in Carrollton Offer Dramatic Results
No Comments
No comments yet.
RSS feed for comments on this post.
Sorry, the comment form is closed at this time.