June 4, 2017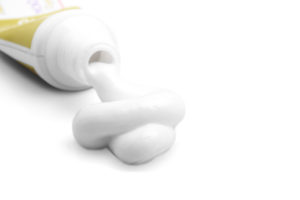 These days, our options in toothpaste seem endless. Whitening or anti-sensitivity? Fluoride or no? Cinnamon, mint, clove, or…? You could spend a considerable amount of time just reading through all that's on offer on the toothpaste aisle. But of all the options, which one is right for you and your family? Stick around because your Carrollton dentist, Dr. Durga Devarakonda, has some expert advice in this week's blog post.
The #1 Thing to Look For in a Toothpaste Is…
FLUORIDE.
While there are a ton of options in toothpastes, most of what you'll find in the grocery store is about the same, just labeled differently. The key thing to look out for in a toothpaste is that it contains fluoride — and any formula that has the American Dental Association stamp of approval is guaranteed to contain fluoride.
While some toothpaste brands offer fluoride-free blends, the benefits that the mineral provides for oral health are well-documented. Regular fluoride exposure strengthens tooth enamel to help it defend itself against the bacteria that causes cavities and gum disease. Fluoride is also safe for smiles of all ages.
What Else to Look Out For
As long as you are brushing with a fluoride toothpaste, you can feel good knowing you are doing right by your smile. Still though, there are some specialty formulas that can better help smiles with different needs. Picking the right one for your teeth can help you overcome issues like sensitivity or stained teeth.
Toothpaste for sensitivity: If you often experience discomfort when your teeth come into contact with heat or cold, brushing with a fluoridated anti-sensitivity toothpaste can help desensitize your teeth for the long-term.

Children's toothpaste: Kids may need a little convincing when it comes to staying on top of their dental hygiene routine, and choosing a toothpaste that is specially flavored for kids is a great way to get them excited about brushing. They may really love one that has their favorite movie or television character on the front, too.

Teeth whitening: While nothing whitens teeth as effectively as a professional teeth whitening treatment, you may notice a difference if you brush with a whitening toothpaste for a couple of weeks. These whitening pastes are specially formulated to scrub away stains from the surface of tooth enamel — not below, where the deepest stains live.
Brush, Floss, and Come See Your Dentist!
In addition to brushing your teeth with the right formula of toothpaste, visiting your dentist every six months is an excellent way to safeguard yourself from some of the most common oral health hazards, like tooth decay, gum disease, and broken or malfunctioning dental work. When was your last visit to DD Family Dentistry? To schedule an appointment or to find out which toothpaste is best for you, contact your dentist in Carrollton today!
Comments Off

on Carrollton Dentist Offers Advice on Which Toothpaste Is Best
No Comments
No comments yet.
RSS feed for comments on this post.
Sorry, the comment form is closed at this time.