June 17, 2017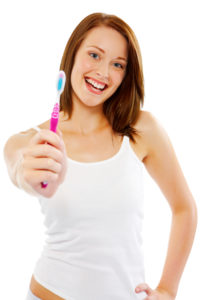 To paint a masterpiece, you'll need all the right materials — like fresh paint, a clean canvas, and a crisp paintbrush. The same is true with your smile. You can't really clean without the proper tools, including a good toothbrush. But how often should you replace that brush, anyway? It's a common question. Your dentist in Carrollton, Dr. Durga Devarakonda, has the answer below.
Replace Often for the Best Clean
Your toothbrush does a lot. If you are using it correctly, it removes plaque and bacteria from the surface of your teeth and your tongue twice a day. If you accidentally brush too hard, its bristles take on even more stress. All that is to say: your toothbrush is not something that will last forever — or even for several months.
It may seem like a lot, but it is recommended that people replace their toothbrush every three to four months, or as soon as its bristles begin to show wear. Some toothbrushes come with helpful blue bristles that begin to fade as it's time to replace.
If you are visiting your Carrollton dentist every six months as recommended, you will receive a brand new toothbrush as part of our gift to you. That means you just need to pick up a new one about halfway between your appointments, and you will always have the best tools to keep your smile sparkling clean!
A Brush Up on Proper Brushing
Having a new toothbrush will help you get a better clean, but it does not matter how fresh the brush is if you aren't getting the technique right. Remember that people of all ages should brush their teeth for two minutes, twice a day, and floss daily. Brush in gentle, circular motions rather than hard back-to-back strokes, which can damage the sensitive gum tissue and cause gum recession. Don't forget to brush your tongue, which harbors bacteria just like your teeth and gums. Use a fluoride toothpaste (see our previous blog post on the importance of fluoride) for the best clean.
Do I Need an Electric Toothbrush?
There is a lot of debate around whether electric or manual toothbrushes are better. The truth is, whatever gets you brushing properly and with fluoride for two minutes, twice a day is the best toothbrush for you. Thorough plaque removal can certainly be achieved with a manual toothbrush, but for many people, an electric toothbrush is easier. Most come with a timer that will help you be sure you are cleaning each quadrant of your mouth for 30 seconds each. And an electric toothbrush can also prevent you from brushing too aggressively, which causes enamel erosion and gum recession.
Want to try out an electric toothbrush? Go for it — it could be a great investment in your oral health. Either way, it certainly won't hurt you.
Come See Us Today!
Keeping your teeth healthy requires a big commitment on your part. Visit our office every six months and maintain excellent oral hygiene habits at home to enjoy a happier, healthier smile for a lifetime to come. Schedule an appointment for a checkup and cleaning today — you'll get a cleaner, healthier smile AND a brand new toothbrush when you do!
Comments Off

on When Should I Replace My Toothbrush, Dentist in Carrollton?
No Comments
No comments yet.
RSS feed for comments on this post.
Sorry, the comment form is closed at this time.