July 7, 2017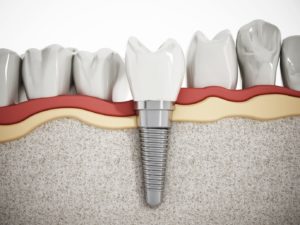 Your teeth are designed to last for a lifetime with the right care. Unfortunately, despite your best efforts, tooth loss can occur. In fact, it is estimated that 178 million adults in the United States are missing at least one. When your smile is incomplete, it quickly causes your confidence to suffer while your oral health declines. Not to mention, you may find yourself avoiding your favorite foods or not speaking as clearly. To fill the empty space, you have many options available, making it difficult to determine which one is best for you. Now, you can join more than 500,000 people each year who choose the most successful solution. At DD Family Dentistry, we provide dental implants in Carrollton to restore your confidence and quality of life.

What are Dental Implants?
Dental implants are the only tooth replacement option that is designed to last for a lifetime while stopping bone loss in the jaw. These benefits are possible due to the materials and process used to replace both the root and crown of a tooth. A traditional dental implant consists of three main parts: an implant post, an abutment, and a dental crown.
The implant post is surgically placed into the jawbone, which will preserve your bone density by keeping it stimulated. The body will naturally fuse to the biocompatible material, creating a lifelong bond while providing a secure foundation for the replacement tooth. After the jawbone has healed, an abutment is attached to connect the dental crown to the post. A couple of weeks after the gum tissue has healed, your custom-made restoration is placed to complete your smile.
Dental implants can be used to replace a single tooth with one post. If you have multiple teeth missing in a row, a bridge is created to fill the space, which will be held in place using two posts. This is the perfect alternative to a traditional bridge or partial dentures. Even if you have complete tooth loss, you can benefit from this solution. The arch of prosthetic teeth is held in place using an average of four dental implant posts.
Are Dental Implants Right for Me?
When used on the ideal candidate, dental implants offer over a 95% success rate. Generally, if you have missing teeth, healthy gums, and adequate bone density in the jaw, you can undergo the procedure. However, to ensure their long-term success, your medical and lifestyle history will also be addressed to access your risk for implant failure.
If you have any medical conditions that limit the body's ability to heal or fight infections, you may need an alternative solution. In addition, lifestyle habits that increase your risk for infection, like smoking, can also impact your candidacy.
Where Can I Get Dental Implants?
If you are ready to gain a complete, healthy, and functional smile with dental implants, you need to schedule a consultation with your dentist in Carrollton. Dr. Durga Devarakonda will create a customized treatment plan to replace your missing teeth.
Comments Off

on Can I Replace My Missing Teeth with Dental Implants in Carrollton?
No Comments
No comments yet.
RSS feed for comments on this post.
Sorry, the comment form is closed at this time.