August 11, 2017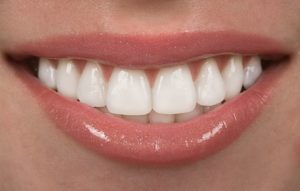 The appearance of your smile is an important asset to your self-esteem and how others base their first impressions. However, if you are like one-third of adults, you do not like how your teeth look. The gaps in your smile cause you to feel insecure. Although you know that braces will close the spaces, you do not want to deal with a lengthy treatment. You do have an alternative option with porcelain veneers in Carrollton. In as little as two appointments, the spaces will be closed so you can smile with confidence.

Improve Your Smile with Porcelain Veneers
Porcelain veneers have quickly become one of the most popular cosmetic dental procedures because it allows you to drastically improve the appearance of your smile using a minimally invasive procedure. Custom-made thin shells are bonded to the front side of your teeth to cover cosmetic imperfections.
This simple and effective procedure is the perfect alternative to orthodontics because they can make your teeth appear straighter—perfect if you have gaps. In addition, they can be used to resolve minor overcrowding issues.
Not only will your smile become straighter, but it will improve the size and shape of your teeth overall so they look more proportionate. Since they are versatile, they can also be used to fix chips, cracks, and teeth that are shorter than average. They can even be used to hide stubborn tooth discoloration to make your smile brighter.
In just two appointments, you will enhance your smile while gaining results that last an average of 10 years.
Start Your Journey to a New Smile
To see if you are a candidate for porcelain veneers, you will need to visit your cosmetic dentist in Carrollton. After a consultation, a comprehensive treatment plan is developed to begin transforming your smile.
During the first phase of the treatment, your teeth are cleaned and a very small amount of enamel is removed. This is necessary to ensure that they will sit flush and maintain a secure bond. Then, impressions are taken, which are needed to create your permanent veneers. While you wait for them to be ready, temporary ones are attached. In about two weeks, you will have your final appointment to bond the permanent ones to your teeth.
Smile with Confidence Today
If you do not love the appearance of your smile but do not want to deal with the restrictions of braces, porcelain veneers could be the solution you have been needing. In just a couple of appointments, the gaps between your teeth will be hidden to enhance your confidence.
About DD Family Dentistry
At DD Family Dentistry, we are committed to providing affordable, high-quality care to create healthy, beautiful smiles. Our dental team has extensive training and qualifications in an array of general and cosmetic procedures. By embracing the latest technologies, we deliver precise and accurate results to improve the health and appearance of the teeth. If you have any questions about porcelain veneers, contact our office to speak to a member of our team.
Comments Off

on Close the Gaps in Your Smile with Porcelain Veneers in Carrollton
No Comments
No comments yet.
RSS feed for comments on this post.
Sorry, the comment form is closed at this time.