September 6, 2017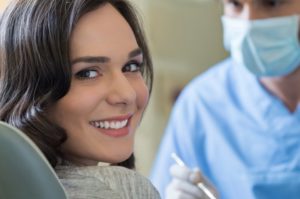 Did you know that there are just about 6,000 hospitalizations due to infected teeth and declining oral health? What about the estimated 38.8 million hospitalizations due to diabetes? What if we told you that these two conditions could be related and contribute to each other's development?
It's true! There are many health conditions that develop with bad oral health, and these conditions feed off one another. Your dentist is one of the few health professionals that can see these health problems developing and can predict how they may affect he rest of your body. This week, your dentist is here to help connect the dots between your oral health and your overall health.
Your Oral Health and Overall Health Are Connected!
If you take care of your teeth and gums, your whole body will benefit. If your oral health is declining, you're making yourself susceptible to these other more severe concerns:
Diabetes
Just about 22% of all diabetics develop periodontal disease (advanced gum disease)—in fact, they affect each other. Patients with gum disease have a higher chance of developing diabetes.
The reason that advanced gum disease specifically affects diabetic patients is that it's harder to control blood sugar levels. Dental bacteria thrive on sugar, making it difficult to maintain blood glucose levels. When blood glucose levels fluctuate, it can cause the bacteria in your mouth to multiply.
Heart disease
The inflammation of your gums from advanced gum disease can contribute to the development of coronary heart disease. Gum recession from gum disease can leave holes in your smile for plaque to travel through your bloodstream and block your arteries.
Alzheimer's Disease
Just as bacteria can enter your bloodstream through gum recession from gum disease, the bacteria can travel to your brain. Since your mouth is extremely close to the brain, bacteria can potentially block nerve endings and tubules in your brain. This can lead to loss of brain function causing Alzheimer's disease.
It's Critical to Maintain Good Oral Health!
Every good dentist knows that the key to keeping good oral health is preventive care. You can receive excellent preventive care from your dental team and practice great dental hygiene at home. Here are a few things you can do to optimize your oral health outside of the dental office:
Brush your teeth for two minutes at least twice a day.
Floss between every tooth at least once a day.
Stay hydrated with copious amounts of water.
Include vitamin rich foods in your diet.
Eliminate tobacco use.
Limit or eliminate alcohol consumption.
Keep each of your regular dental appointments.
Keeping up good oral health takes a team. If you practice these tips at home, you must still take the time to schedule and attend regular dental appointments. This way, your dentist can help you address other health concerns if they're spotted during your dental exam.
---
About Our Office
As we stated, taking care of a smile takes a team. If you're looking for a dental practice to be with you every step of the way throughout your oral health journey, look no further than DD Family Dentistry. You can trust that Dr. Durga Devarakonda has your oral health and overall health in mind and that we will provide top-notch dental care no matter what. If you would like to speak to our expert dentist, feel free to reach out to our Carrollton office.
Comments Off

on Your Local Preventive Dentist Can Improve Overall Health!
No Comments
No comments yet.
RSS feed for comments on this post.
Sorry, the comment form is closed at this time.