November 14, 2017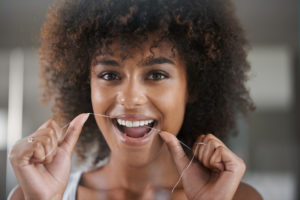 You stare at the little package of floss after brushing your teeth, debating whether to pick it up or not. To floss or not to floss, that is the real question, right?
Wrong! The time that you take mulling over the thought of flossing, you could actually be cleaning your teeth. With the new year approaching, your dentist in Carrollton wants to challenge our patients to keep this resolution: committing to flossing. Here's why!
Don't Fall for the Clickbait News Articles, Flossing is Still Important!
There have been many magazines that use headlines like, "Feeling Guilty About Flossing? Maybe There's No Need" or "Flossing Isn't That Important." These are simple clickbait tactics to intrigue readers, but unfortunately, they don't have your best interest in mind—like your dentist does! These articles claimed things like:
Your dentist gets paid more to promote flossing.
Flossing is unnecessary and doesn't affect your oral health.
First off, your dentist's job is to help you maintain your best smile. That means to keep it attractive and healthy! Your dentist has no other motives to recommend flossing other than those two reasons. In fact, dentists give out floss for free because dental experts know how important it is to encourage the good habit.
Secondly, flossing helps your gum health to stay strong and durable over the years. When you take the time to remove plaque from your teeth and gums by flossing, you're decreasing your chances of developing gum disease. It's one of the best ways to reach those hard-to-reach spots between your teeth and below the gum line.
A Strict Flossing Habit Can Save Your Smile
As mentioned above, flossing is a one of the best ways to remove plaque before it hardens to tartar on your teeth and below the gum line. When tartar accumulates along with dental plaque and bacteria, you could develop a debilitating dental condition: gum disease!
Gum disease starts slowly, but can quickly advance to periodontal disease. Advanced gum disease is known to cause infections throughout your mouth and inflammation, leading to serious systematic health problems. Some signs of gum disease include:
Loose permanent teeth
Chronic bad breath
Bleeding gums
Inflamed gums
Receding gums
One way to make sure you floss regularly is to keep your floss visible in your bathroom. It's also great to have a support team, like a helpful dental practice to rely on when you need advice.
---
About Our Office
Here at DD Family Dentistry, we take pride in offering effective, helpful advice and services for each and every one of our patients. It's important to us that you know how to care for your smile outside of our office so that you can maintain healthy teeth and gums. If you ever need help learning about the best brushing or flossing habits, feel free to contact your Carrollton dentist.
Comments Off

on Your Dentist in Carrollton Clears the Air About Flossing
No Comments
No comments yet.
RSS feed for comments on this post.
Sorry, the comment form is closed at this time.