January 15, 2018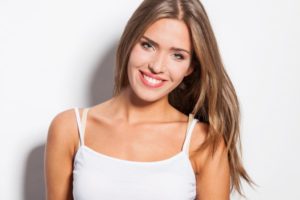 Studies show that one-third of Americans say that a person's smile is the first thing they notice. And in another data set, researchers found that 73% of the people questioned, said that they were more likely to trust a person with perfect teeth than someone with a high-powered job or a flashy car. These data demonstrate just how high on the priority list our society holds the appearance of your pearly whites. But there is also evidence that reveals how possessing straight teeth can have a positive impact on your health. You're invited to continue reading to learn about these benefits and how you can achieve them through Invisalign of Carrollton.
What is Invisalign?
The Invisalign process corrects gapped, misaligned, crooked or crowded teeth by using BPA-free plastic trays that are custom designed to make adjustments until you achieve the final desired look. The process begins with an initial consultation to determine whether you are a good candidate. After your dentist in Carrollton determines that Invisalign is right for you, you will then have a 3D scan taken of your teeth, which will be used to fabricate your new aligners.
Once crafted, you'll receive your full set of trays to be comfortably worn. After a six to 18-month process, you will then have the smile that you've been dreaming of. But along with the increased confidence that you'll feel, you'll also have the opportunity to possess a healthier mouth.
How Invisalign Braces of Carrollton Enhance Your Health
Along with gaining a beautiful smile, you will also enjoy increased wellness from having straight teeth, including:
Gum Support – Your gums will have a more secure fit and provide better support when your teeth are straight, which helps prevent gum disease because it reduces the chances of root exposure.
Better Cleaning – You will also be able to clean your teeth better when they are correctly aligned. This will allow you to get into the areas where bacteria like to hide, thus preventing gum disease.
Jaw Alignment – Having correctly aligned teeth also results in a better bite pattern and prevents jaw problems.
Don't feel ashamed about desiring to look better because you don't have to choose between function and aesthetics. So that old saying that, "You can't have your cake and eat it too," is tossed out of the window. Yes, you can have the best of both worlds! Feel free to reach out to your dentist to learn how to get the Invisalign process started.
About the Author
Dr. Durga Devarakonda received her Bachelor of Science degree in Biology from the University of Massachusetts. She then went on to earn her Doctor of Dental Medicine degree from the Tufts University School of Dental Medicine. A member of the American Dental Association and several other professional organizations, Dr. Devarakonda practices at DD Family Dentistry and can be reached for more information through her website.
Comments Off

on Get a Perfect Smile and Healthy Teeth with Invisalign of Carrollton
No Comments
No comments yet.
RSS feed for comments on this post.
Sorry, the comment form is closed at this time.