February 27, 2018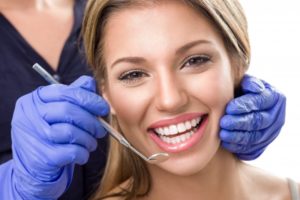 Whitening may not be advisable for all patients—for instance, if you have several tooth-colored dental restorations. Sometimes, whitening products can cause adverse effects, such as tooth sensitivity and gum inflammation—both of which you would want to avoid at all costs. Your dentist in Carrollton can advise whether you can safely and effectively whiten your teeth and the best way to do it. Keep reading this week's blog post to learn about the best whitening treatments available in our office and safe products to use at home.
Why Are Not All Patients the Perfect Candidates for Teeth Whitening?
Teeth whitening seems relatively simple, which is why it makes so much sense as to why many patients try to whiten their teeth on their own or at home. The truth is that although the overall process is relatively simple, there are some patients who would benefit from either waiting to bleach their teeth or giving the responsibility to their dentist. These patients include:
Patients who have dental restorations as they can become irritated with bleaching products at home if they are too strong or used too often.
Patients who have current orthodontic treatments as their brackets and wires could get in the way of the bleaching treatment, leaving discolored spots on their teeth when their braces are removed.
Patients who already suffer from tooth sensitivity should trust their dentist with professional whitening treatments.
How Can a Dentist in Carrollton Help to Safely Brighten Teeth?
Over the counter products like whitening strips and whitening toothpastes may promise in a quick and convenient manner, but nothing will give you the results that you really want like professional teeth whitening can. Plus, this way, your local dentist is able to help monitor the whole process to protect your overall oral health—especially sensitive soft tissues.
Your local practice offers Zoom! Whitening treatments (a high-quality, strong—yet, safe—concentrated bleaching product) both from our office and even in a gradual, take-home whitening kit that's custom for you.
The benefits of professional teeth whitening in our office are numerous. Some of them include…
Brighter, whiter teeth by at least 8 shades!
Professional-strength bleaching gel that's monitored by a professional.
Special accommodations for tooth sensitivity, dental work, or other conditions.
Lasting results achieved in a much shorter period of time.
Whether you want to improve your smile specifically by whitening your teeth or spruce up your whole appearance with a more youthful look, teeth whitening from your local dentist is the best way to go!
---
About Our Office
Here at DD Family Dentistry, we will do our best to help you achieve the smile of your dreams. For a complete cosmetic dentistry consult, contact our local practice. Our friendly team will guide you through the best dental services for your healthiest and brightest smile ever, including our different whitening options!
Comments Off

on Dentist in Carrollton Says to Check on Safe Teeth Whitening!
No Comments
No comments yet.
RSS feed for comments on this post.
Sorry, the comment form is closed at this time.