March 10, 2018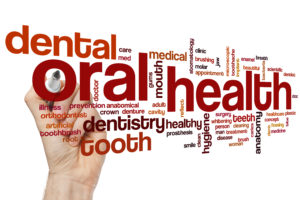 Some of the greatest nemeses to your oral health are bacteria, but did you know that their harmful effects don't just stop with your mouth, teeth and gums? In fact, everything in your body is connected. That means that the health of one area plays a role in the condition of another, so it's important to know how to create an environment of total wellness. Therefore, your dentist in Carrollton is weighing in with information on how oral hygiene and preventive dentistry can enhance your overall health.
How Can Your Oral Health Affect Your Total Wellness?
You know that your mouth, teeth and gums are key in your consumption of food and beverages, your speaking abilities and your intake of oxygen. But this portion of your body also serves as a window into the health of the rest of your structure.
The main threats to the health of your oral cavity are bacteria. They are always present in your mouth, but when you eat they flock to any leftover debris to feed on it. If they are not removed from your mouth, these bacteria grow, multiply and cluster together to form plaque – a sticky, clear substance that advances tooth and gum decay.
Thus, if plaque is running amuck in your mouth and has caused infection in your gums, it's just a matter of time before the effects travel to other parts of your body through your blood. The effects can be devastating and even life-threatening.
Serious Health Problems Associated with Tooth and Gum Decay
One of the results of infection caused by plaque buildup is that it causes inflammation, which is a natural response of the human body to stress or an attack. When plaque in your blood travels down to your heart, the inflammation response manifests as arterial plaque. This inhibits the function of your cardiovascular system and can lead to heart attack.
The infected blood not only travels to the heart but also cycles up to the brain. When it arrives there, the inflammation response can lead to Alzheimer's disease – a neural-degenerative disorder where the long-term memory is destroyed over time.
There's a Ray of Hope!
The great news is that these dreadful conditions are preventable. One of the major ways you have to fight them is through practicing excellent oral hygiene, which should include:
Brushing and flossing your teeth at least twice a day.
Making healthier food choices (more fruits and vegetables and less processed foods).
The other method you have available to stave off the effects of bacteria is your semi-annual visit to your Carrollton dentist for a cleaning and examination. These preventive care appointments allow you the comfort of protecting your health instead of trying to put out fires. The cleanings will remove the built-up plaque and tartar that may have collected on your teeth and gums, and the checkup will serve as a way to detect any maladies early so that a plan of action can be formed to address them.
So to experience the full benefits of proactive care, reach out to your dentist in 75010 to schedule your first visit today!
About the Author
Dr. Durga Devarakonda earned her Doctor of Dental Medicine degree from Tufts University School of Dental Medicine in 2011 and began her career working with children. She soon transitioned to General and Geriatric Dentistry, enabling her to deliver care for patients from 1 to 100 years of age. Dr. Durga practices at DD Family Dentistry and can be reached for more information through her website.
Comments Off

on Your Dentist in Carrollton Says Your Oral Care Can Save Your Life!
No Comments
No comments yet.
RSS feed for comments on this post.
Sorry, the comment form is closed at this time.