April 7, 2018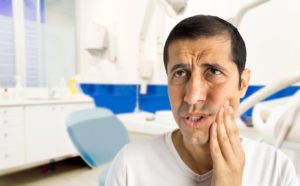 There are many scenarios that can end up as a dental accident. For instance, if you're playing with your child in the park, you could accidentally slip and knock your tooth on the playground. Instead of losing your cool and worrying about your bleeding mouth, the best thing that you can do is take the necessary steps to save your smile.
We know—it sounds easier said than done. Staying prepared with the appropriate dental knowledge can help you to handle a dental accident or emergency much better.
Thankfully, your emergency dentist in Carrollton has put together a quick guide in this week's blog post to help you determine whether or not urgent dental care needed.  Continue reading to learn more about dental emergencies and what to do if one strikes!
Determining Urgent Dental Emergencies
Here is a good rule of thumb for you to understand how dental emergencies work: anytime that you experience dental pain, bleeding, swelling, dental damage, or lost teeth, you have a dental emergency on your hands.
Not every dental accident is as critical as other ones, though. So, it's important to be able to determine which emergencies need attention right away and which ones can wait for a scheduled dental visit. Here are a few examples of dental emergencies that you should visit your dentist for right away:
Bleeding of the mouth that won't stop.
A lost tooth.
A broken restoration.
An excruciating toothache.
If you happen to have a less painful dental accident, you can simply call your dentist to schedule the next available visit. Ask them for advice over the phone on how to handle your problem until you can make it to your local dental practice.
You Should Always Turn to Your Dentist for Assistance
Many don't know the exact steps to take when dealing with a dental emergency. Some dental accidents can be really scary, so many people assume it's best to visit an emergency room rather than a dental office. This isn't true unless you have a more urgent bodily injury, like a broken jaw, accompanying your dental accident.
Here are the steps that you should follow to maintain your mouth until you can see your dentist.
Stay calm no matter what!
Call your local office for step by step advice over the phone.
Be sure to schedule your next available appointment.
Drive safely while you travel to us.
Once you reach your dental office, you can be confident that your team will act swiftly to save your smile!
---
About Our Office
Here at DD Family Dentistry, avoiding dental discomfort and pain is one of our highest priorities. However, we do know that dental accidents happen unexpectedly. We want you to know that we're here for you in your time of need! Don't hesitate to give us a call when you need emergency assistance.
Comments Off

on Do You Need to See an Emergency Dentist in Carrollton?
No Comments
No comments yet.
RSS feed for comments on this post.
Sorry, the comment form is closed at this time.