August 6, 2018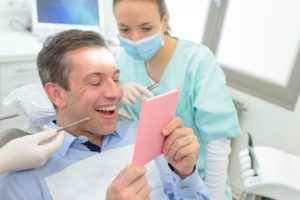 Your smile portrays your personality and allows you to enjoy good food and speak clearly. When even one tooth is missing, there is difference in the way you look and your quality of life. A great way to replace missing teeth is with dental implants in Carrollton. Dental implants closely replicate the construction of natural teeth. There is the implanted post that bonds with bone in your jaw—just like the root of a tooth. Then, there is the restoration that is attached to the implant—the portion above the gum line that everyone sees.
That's the quick summary on dental implants. Continue reading to learn what you can expect the day of surgery and during your recovery.
Oral Surgery for Dental Implants
The words "oral surgery" can be off-putting. Actually though, surgery for a single implant usually takes no more than 30 minutes and causes no more discomfort than having a cavity filled.
A local anesthetic numbs your gum tissue at the site; believe it or not, bone has little feeling. Then, using a special drill, a small section of bone is removed and the implant is embedded. Sometimes, stitches are required to close gum tissue over the implant. Other times, however, the incision is so small that no sutures are necessary.
Your dentist may send you home with a prescription for an antibiotic. Be sure to take all of this medicine. Some discomfort can be expected after implant surgery. Acetaminophen or ibuprofen should suffice.
The Healing Process
How long it takes you to heal from your surgery will depend on the number of implants you received and your own personal healing time—some people heal quickly while others need more time. A secure bond between post and bone can take anywhere from six weeks to six months.
There's no need for concern if your gums and jaw are sore for the first few days after surgery. Take your over-the-counter pain reliever on schedule so you can stay ahead of any discomfort.
You can help your gums heal by not eating hard or crunchy foods for a few weeks. Don't abandon your oral hygiene routine! Brush and floss as you always do twice a day, but be careful around the surgical site, especially if there are sutures.
Gargling with warm saltwater is also advised. The warm water can be soothing to gum tissue, and the salt has antiseptic properties.
Once you've completely healed and the posts are secure, you'll return to the implant dentist in Carrollton to have your restoration attached—a dental crown for a single implant, a bridge for several or an implant-supported denture for an entire arch of teeth.
Show the world your personality with a complete smile. Schedule a visit with your dentist to learn more about dental implants.
About Dr. Durga Devarakonda
Dr. Durga Devarakonda provides complete dental care to patients of all ages. In addition to general dentistry, she also offers dental implants to replace missing teeth and rebuild beautiful smiles. If you would like to schedule a consultation to learn more about dental implants, contact our office today.
Comments Off

on What to Expect When You Get Dental Implants in Carrollton
No Comments
No comments yet.
RSS feed for comments on this post.
Sorry, the comment form is closed at this time.