January 27, 2019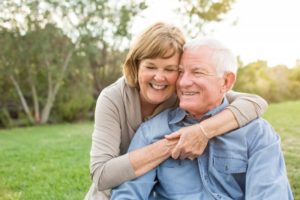 If you have dental implants in Carrollton, you may think that your days of worrying about your oral health are over. Well, think again. Although it's true that implants are not susceptible to decay or other dental disease, your gums' health is essential to make the implants last for the long term. It's worth the effort to care for your dental implants to ensure that you can keep chewing, speaking, and smiling with confidence for years to come.
What are dental implants?
A dental implant is a titanium screw that is surgically placed into a socket to replace a missing tooth. Over the course of a few months, the bone grows around and bonds with the screw, securing it in place. Then a prosthetic crown is put on top of the implant, restoring the lost natural tooth.
Some of the benefits of dental implants including the following:
Stability. Because they are fully integrated into the bone, implants do not move or come loose like dentures.
Independence. Unlike bridges, dental implants are independently anchored and do not affect the surrounding teeth, which usually means that your natural teeth stay healthier longer.
Natural feeling. Because a dental implant mirrors natural tooth structure, it feels the most natural out of the options for tooth restoration.
Oral health promotion. With other tooth restoration options, the supporting bone can eventually lose its density. Dental implants actually help strengthen bone density in the jaw because it integrates into the bone, like a natural tooth.
How long can dental implants last?
Compared to other restoration options, such as bridges or removable dentures, implants can have a much longer lifespan. About 95% of dental implants make the 10-year benchmark. But with the proper maintenance, dental implants can last up to 30 years or even more! How long your dental implants will last depends on several factors, including the following:
Oral hygiene practices.
Medical history.
Diagnosis and planning.
What do I need to do to help make my dental implants successful long term?
Although dental implant success is influenced by some factors out of your control, there are certain actions you can take to help ensure that your implant can last long term. Dental implants need the same kind of conscientious care as natural teeth, namely:
Brushing at least twice a day.
Flossing at least once a day.
Using a fluoride mouthwash.
Visiting your implant dentist in Carrollton for checkups and cleanings twice a year.
These dental visits are essential. Not only does it give you the opportunity to get a freshly cleaned mouth, but it allows the dentist to inspect your implants and confirm that your gums are healthy around the implant.
Think of your dental implants as your second chance with permanent teeth. Yes, they are strong and impervious to dental disease, but they will only last as long as you exercise healthy oral habits. As you take care of your dental implants as you would your natural teeth, they will serve you well for many years in the future. For more information about dental implants in Carrollton and how to care for them, contact your dentist.
About the Author
Dr. Durga Devarakonda has been practicing dentistry since 2011. She has pediatric and geriatric dentistry experience, which means that she can help patients of any age. At DD Family Dentistry, she and her staff strive to make every patient comfortable and fully informed about their dental treatment. You can contact her for an appointment by calling (972) 245-3395 or clicking here.
Comments Off

on Making Your Dental Implants in Carrollton Last
No Comments
No comments yet.
RSS feed for comments on this post.
Sorry, the comment form is closed at this time.