February 25, 2019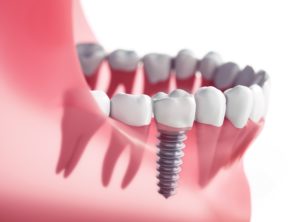 If you are missing one or more teeth, you have likely tried conventional tooth replacement treatments to complete your smile, like a bridge or partial. Although you had high hopes for them to look and feel natural, they do not really mimic your teeth. Now, you can join more than 500,000 people each year who are investing in their quality of life using the next best thing to their real teeth. Patients prefer dental implants in Carrollton because they resolve the disadvantages of traditional tooth replacement treatments.
What are the Benefits of Dental Implants?
Dental implants differ from conventional options because they do not just replace the crown. They also replace the root using a biocompatible titanium implant post. This allows you to enjoy several advantages that are not achievable using any other treatment.
High Success Rate: Dental implants provide over a 95% 10-year success rate to complete your smile using a solution that can last for a lifetime.
Looks Natural: All-ceramic restorations allow your prosthetic teeth to match the appearance of your natural ones, so no one can tell they are not your own.
Feels Natural: The implant posts anchor your restorations to your jawbone, so you will never need to worry about any slipping or irritation again. In fact, you can restore as much as 70% of your biting force.
Improves Oral Health: The implant posts stimulate your jaw to encourage new bone growth. Enhancing your jaw's density stops dental drift to prevent your teeth from moving out of alignment. This decreases your risk of tooth decay, gum disease, and alignment issues.
Preserves Natural Teeth: Improving your bone density gives any remaining natural teeth the support they need to stay in place to stop further tooth loss. Dental implants do not require you to alter healthy teeth to hold them in place to protect your natural smile.
Supports Facial Structures: Dental implants preserve the density in your jawbone to prevent your facial structures from shrinking. This prevents premature sagging and wrinkling of your skin to maintain a youthful appearance.
Cost-Effective Investment: Although dental implants cost more upfront than traditional treatments, they are more cost-effective long-term. They have the potential to last forever, so you never need to replace them with the right aftercare.
Added Confidence: You can speak, smile, and chew with confidence knowing your new smile stays in place and looks natural.
Invest in Your Smile Today!
If traditional treatments did not give you the results you wanted, your implant dentist in Carrollton can help you enjoy the preferred option to replace your missing teeth. With the right dentist by your side, you invest in your quality of life using a lasting solution.
About Dr. Durga
Dr. Durga helps her patients work toward the common goal of optimal oral health. She is specially trained in geriatric dentistry to meet your dental needs as you age. If you have lost teeth over the years, she can replace them with dental implants. Contact DD Family Dentistry today to schedule your consultation.
Comments Off

on Discover Why Dental Implants in Carrollton are Preferred by Patients
No Comments
No comments yet.
RSS feed for comments on this post.
Sorry, the comment form is closed at this time.