April 15, 2019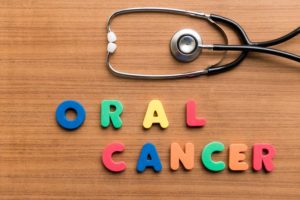 According to the American Cancer Society, this year about 53,000 people will be affected by oral cancer. Early detection and treatment is vital because once the cancer spreads, it's significantly more difficult to stop. It will cause about 10,000 deaths this year due to factors like late diagnosis, which is why it's so important to attend your routine checkups and cleanings with your dentist. You may not have known it, but each time you visit them they conduct an oral cancer screening in Carrollton in search of any symptoms that could lead to an early diagnosis. This Oral Cancer Awareness Month, keep yourself healthy and in-the-know by learning prevention techniques. Read on to know what to expect during your screening at your next semi-annual appointment.
Symptoms of Oral Cancer
Your body lets you know when something's wrong, so it's important to look out for symptoms and signs of oral cancer between visits to your dentist in Carrollton. If these signs don't appear to either improve or go away completely after two weeks, it's important to see a dental professional immediately:
Red or white sores or patches in your mouth.
Tenderness or numbness in or around your mouth.
Sores or oral wounds that won't heal.
Difficulty swallowing or moving your jaw or tongue.
Knowing symptoms to look out for could increase your chance of survival if you end up being diagnosed with the disease. The death rate from oral cancer is particularly high because the disease is typically left undiagnosed until it has spread, making it more difficult to treat.
Your Oral Cancer Screening
Your dentist's goal by conducting screenings is to establish an early diagnosis and tackle oral cancer before it progresses. During your semi-annual checkup and cleaning, your dentist will also inspect the inside of your mouth looking for any tell-tale symptoms such as red and white patches. With gloved hands, they'll also feel your cheeks and oral tissue checking for any lumps or abnormalities.
If your dentist spots any problem areas or signs of oral cancer, they may order additional testing. They could also refer you for a biopsy in search of any cancerous cells, or schedule a follow-up visit to see if symptoms are still present.
Here's How to Reduce Your Risk
Numerous studies have established multiple factors that have been linked to causing oral cancer. You can reduce your risk of developing this disease by avoiding the following:
Using any tobacco products.
Regulating your alcohol consumption.
Contracting the sexually transmitted human papillomavirus (HPV).
Constantly exposing your lips to the sun.
If you aren't able to avoid these, you could be at risk for developing oral cancer, so it's important to keep up with your semi-annual visits with your dentist. Additionally, you can avoid contracting HPV by getting vaccinated and practicing safe sex.
Your dentist may be the one person that stands in the way of you and oral cancer. Because early detection is the key to successful treatment, checking for symptoms at home and getting regular oral cancer screenings can help you catch it before it develops. When the disease is left to spread to other parts of your body, it can wreak havoc on your life and be even more deadly—so don't put your screenings on the backburner!
About the Author
Dr. Durga Devarakonda knows how important your oral health is, so she takes pride in giving each of her patients thorough oral evaluations each time they visit her for their checkups and cleanings. Because she started her career at a Pediatric Dental Clinic, she has unique experience that allows her to treat patients of all ages. Bring your family in for a screening by scheduling an appointment on DD Family Dentistry's website or by contacting 972-245-3395.
Comments Off

on An Oral Cancer Screening in Carrollton Could Save Your Life!
No Comments
No comments yet.
RSS feed for comments on this post.
Sorry, the comment form is closed at this time.