November 12, 2019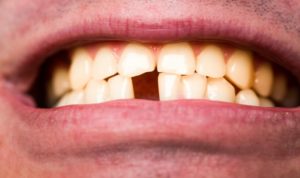 Did you know that more then five million teeth are knocked out every year? If this has happened to you, don't worry. It doesn't necessarily mean the knocked-out tooth can't be saved. First things first, you should call your emergency dentist and let them know you dislodged a tooth. After that, here are the steps you need to take to ensure a successful reimplantation.
1. Handle the Tooth by the Crown
Locate the tooth as soon as you can and gently pick up the tooth by the crown, which is the portion of the tooth that you use to chew and is visible in your smile. Do NOT touch the root of the tooth, or the part that is normally underneath your gum tissue.
2. If Dirty, Rinse the Tooth
Use ONLY water, and nothing else to rinse off any dirt that it may have on it. Do not use any soap or chemicals. After you have rinsed off the tooth, do NOT scrub it dry.
3. If Possible, Reposition the Tooth in the Socket
If you can, place the tooth back in the socket right away. Use your fingers to gently push it into the socket, taking care to only handle the crown and not the root. Alternatively, you could position the tooth above the socket and then slowly close your bite to bite the tooth back into place.
4. Keep the Tooth Wet
Besides calling your emergency dentist right away, the most important thing is to make sure the tooth is moist at all times. If you can't place it back in the socket, hold it in your mouth between your cheek and gums. Or, you could put it in a container of milk or an emergency tooth preservation kit, like Save-a-Tooth. Whatever you do, don't place it in regular tap water, as the cells on the surface of your tooth roots can't tolerate tap water for extended periods of time.
5. See Your Dentist Within 30 Minutes of the Injury
Make sure to bring your tooth with you to your emergency appointment. It's best to see your dentist within 30 minutes; however, it's still possible to save your tooth even if it has been outside of your mouth within an hour or more.
When you knock out a tooth, time is of the essence. Call your emergency dentist as soon as possible, and follow these steps in the meantime.
About the Author
Dr. Durga Devarakonda is a restorative and emergency dentist in Carrollton, TX. She obtained her Doctor of Dental Medicine degree from Tufts University School of Dental Medicine nearly a decade ago. Her practice, DD Family Dentistry of Carrollton, offers same-day emergency appointments, so don't be afraid to contact them if you knock out a tooth.
Comments Off

on How to Save a Knocked-Out Tooth
No Comments
No comments yet.
RSS feed for comments on this post.
Sorry, the comment form is closed at this time.