December 7, 2019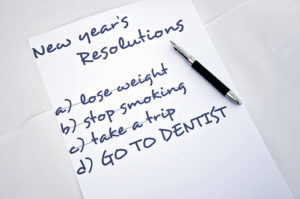 The New Year is the perfect chance to start becoming a new you with resolutions to improve your health! Unfortunately, almost 80% of New Year's resolutions fail by February because people set lofty goals without a reasonable plan to reach them. So, if you want to get healthier this year, do you know where to start? Improving your oral health is an easy, highly effective way to boost your overall health, and the benefits don't stop there. If you're trying to become more confident, clean up bad habits, or become a healthier person for years to come, you can start your journey with a quick trip to your cosmetic dentist!
Regain Your Confidence with Cosmetic Dentistry
Is your smile holding you back from being confident? An astonishing number of people hide their teeth when they smile because they don't like how they look in photos, which can make you look and feel insecure. If you're resolved to become a more confident person this year, cosmetic dentistry can give you a beautiful smile that you can't wait to show off!
With a single appointment, your cosmetic dentist can turn your frown upside-down. Professional teeth-whitening and direct bonding are both quick, non-invasive, and extremely effective procedures that can drastically improve your smile and erase embarrassing discoloration, cracks, or chips from your teeth!
Clean Up Your Bad Habits with Restorative Dentistry
New Year's resolutions are all about starting new healthy habits and breaking bad ones. Chewing on your nails, pencils, ice, or pen caps may seem harmless, but this can chip and break your teeth very quickly. You may even crack your teeth without realizing it!
To break the habit, try to identify what's triggering your behavior: are you stressed? Bored? You can also try chewing sugar-free gum or over-the-counter solutions designed to discourage nail biting. Restorative dentistry can fix chips, decay, and broken tooth structure caused by bad chewing, flossing, or brushing habits. Tooth-colored fillings and porcelain dental crowns are two popular, effective, and easy ways you can rebuild and strengthen your damaged teeth while protecting them from future issues.
Stay Healthy All Year Long with Preventive Dentistry
For all aspects of your health, the best way to treat problems is to catch them as early as possible before they can become bigger issues. So, if your New Year's resolution is to get healthier this year, don't become overwhelmed by how large a goal you've set. Start with small, obtainable steps like maintaining great oral health with preventive dentistry. Seeing your dentist regularly for your checkup can help you catch and treat gum disease, infections, cavities, and more before they become a larger health issue.
Instead of running twenty miles or starving on a crazy diet to get healthier this year, you can take care of your smile and see fantastic results much faster and with less effort!
About the Author
Dr. Durga Devarakonda is a cosmetic, restorative, and preventive dentist based in Carrolton, TX. She is a graduate of the Tufts University School of Dental Medicine and holds memberships in the American Dental Association, the Texas Dental Association, the Massachusetts Dental Society, and the North Texas Dental Society. She is passionate about helping people at every stage of life create the happy, healthy smiles they've always wanted. If you have any questions about the article you just read, she can be contacted via her website or at (972) 245-3395.
Comments Off

on New Year, New You: Resolutions for a Beautiful, Healthy Smile
No Comments
No comments yet.
RSS feed for comments on this post.
Sorry, the comment form is closed at this time.