March 3, 2020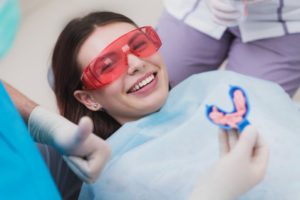 Fluoride treatment is a common service that's typically recommended for children, because their smiles are still developing. However, in certain cases, this service can offer great benefits for adults with certain needs as well. Without strong enamel, your teeth can be left unprotected and vulnerable to common oral health problems such as cavities. Read on to learn whether you can benefit from fluoride treatment from your dentist, and what oral issues may make this service necessary for adults.
How Can Adults Benefit From Fluoride Treatment?
Research has shown that patients of all ages can benefit from getting fluoride treatment from their dentist. Before, it was primarily recommended for children because their teeth were still developing, and fluoride could help their enamel grow to be stronger. However, today, studies show that getting topical fluoride from products such as toothpaste and mouth rinses help fight off the threat of cavities, allowing adults to optimize their oral health and keep their natural pearly whites healthy.
What Problems May Cause Adults To Need Fluoride Treatment?
Getting topical fluoride is fairly easy, because it's found in most city water supplies as well as commonly-used dental health products that you can buy in grocery and department stores. However, some people that primarily drink bottled water or who suffer from some of the following conditions can benefit greatly from fluoride treatments from their dentist:
Certain medications, such as antihistamines, can cause dry mouth. This side-effect can increase your risk of tooth decay.
If your gums are receding due to oral health problems such as gum disease, it can increase the chances of harmful oral bacteria accumulation.
Wearing braces can increase your risk of cavities by making it more difficult to brush and floss.
Radiation therapy can damage salivary glands and cause dry mouth.
Poor dental hygiene can result in enamel erosion.
Without enough fluoride, your teeth can become vulnerable to decay, which is one of the most common oral health problems that Americans experience, right next to gum disease. Fluoride treatment can help restore essential dental minerals and ensure that your mouth remains protected and healthy.
Are There Different Types of Fluoride Treatment?
You can get fluoride from a variety of products as well as your dentist. When you visit your dentist for a checkup and cleaning, you can ask them whether they believe you can benefit from receiving treatment. When you choose to get professional in-office topical fluoride, the process will only take a few minutes. They'll place a mouthguard-like appliance filled with the substance on your teeth to be absorbed directly. After the procedure, you won't be able to eat, drink, or smoke for up to 30 minutes afterward. You can also ask your professional about product recommendations that may help fortify your enamel.
About the Author
Dr. Durga Devarakonda is a highly experienced family dentist in Carrollton that offers all dental services under one roof. Whether you're looking for treatment for your children or grandparents, you can trust that your loved ones will be receiving the best possible care. She is an active member of several professional organizations, including the American Dental Association. For questions or to schedule an appointment or consultation, visit DD Family Dentistry of Carrollton's website or call 972-245-3395.
Comments Off

on Can Adults Benefit From Fluoride Treatments?
No Comments
No comments yet.
RSS feed for comments on this post.
Sorry, the comment form is closed at this time.