April 4, 2020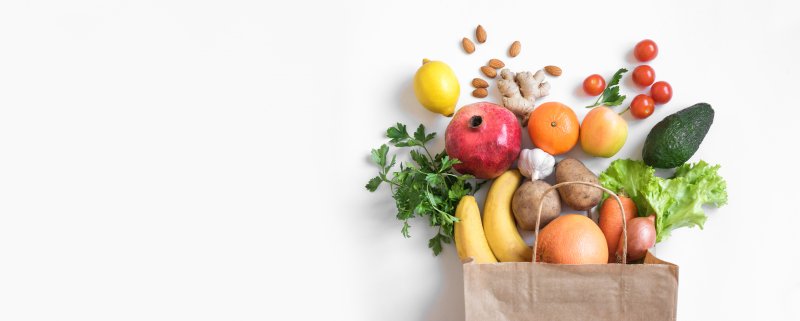 While working from home during the COVID-19 pandemic, it's easy to snack often. After a long day of Zoom meetings and client calls, you may be tempted to grab something sugary to eat. Though sweet foods can be nice in moderation, they can also put your teeth at risk. The last thing you want to do is book an emergency appointment with your Carrollton dentist because of an abscessed or broken tooth. To keep your teeth strong and healthy during quarantine, consider making small, simple substitutions to your snacking.
The Risks of Hard and Sugary Snacks
A 2018 Nielsen poll showed that Americans buy chips, chocolates, and candy more than any other snack foods. Though they might satisfy your sweet tooth, these kinds of crunchy and sugar-filled foods put your teeth at risk for developing dental problems. Hard, crunchy snacks can cause your teeth to chip or break. Sugary, sticky foods can lead to tooth decay, cavities, and abscesses.
Dental emergencies can cause a lot of pain. Even though your dentist may still be seeing emergency patients during the pandemic, it's better to simply take good care of your oral health and avoid the dental office altogether.
Choosing Better Options
To keep your oral health on the right track, consider replacing your crunchy, sugary snacks with some of the following delicious alternatives:
Cheese and Yogurt: Foods that are high in phosphorous and calcium help to strengthen your teeth. They can help to prevent the growth of cavities and bolster your enamel.
Fibrous Fruits and Vegetables: If crunchy snacks are your favorite, consider replacing chips and pretzels with apples and celery. Foods that are high in fiber help to remove plaque from your teeth while you eat them.
Nuts and Seeds: Many types of nuts, such as almonds, contain a lot of protein. Foods that are high in protein and calcium are excellent for strengthening and protecting your teeth.
Choosing healthier snacks can have a tremendous impact on both your oral health and your mood. By making good choices, you're keeping yourself out of the dental chair and protecting your smile. Life during the pandemic is stressful enough. Make healthy, delicious choices that will keep looking and feeling your best.
About the Author
Dr. Durga Devarakonda wants her patients to have great oral health and wonderful lives. A graduate of the Tufts University School of Dental Medicine, she has continued her education across the dental field, from pediatric dentistry to geriatric dentistry. She finds joy in being able to treat people of all ages and from all walks of life. She is working hard to make sure that patients with emergencies are able to be seen quickly during the pandemic. If you'd like to learn more about how to take care of your oral health at home, she and her team at DD Family Dentistry of Carrollton are just an email or phone call away at (972) 919-0540.
Comments Off

on Making Healthy Choices: Snacking Tips to Maintain Your Oral Health
No Comments
No comments yet.
RSS feed for comments on this post.
Sorry, the comment form is closed at this time.