June 25, 2020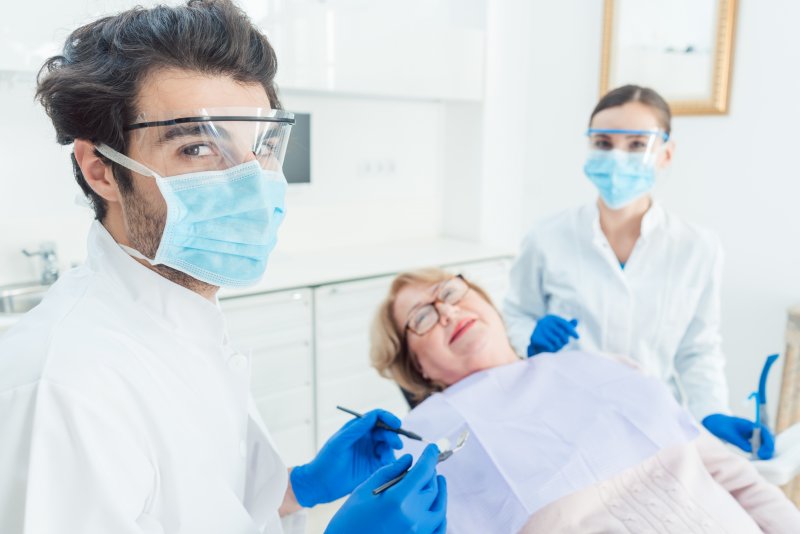 The transition out of quarantine has begun, but the fight against COVID-19 is not over yet. Therefore, patients find themselves asking, "Is it safe for me to visit the dentist?" If you have found yourself wondering the same thing, then you may find some peace-of-mind knowing the measures your dentist is taking to ensure your safety. Your family dentist in Carrollton shares five ways they are preparing for your next visit during COVID-19.
Contactless Greetings
Social distancing is woven into our everyday lives. While research is being conducted daily on COVID-19, reputable sources (like the Centers for Disease Control and Prevention) are adamant that maintaining a 6-foot distance is crucial in reducing the transmission of the virus. Therefore, your dentist and their team will be offering contactless greetings upon your arrival (i.e., a friendly wave, air high-five, etc.).
Virtual Waiting Rooms
Waiting rooms pre-pandemic were by no stretch of the imagination social distancing friendly. Therefore, they have been re-designed to follow infection control guidelines that protect both the staff and patients. To reduce foot traffic and prevent congested seating areas, virtual waiting rooms are being implemented that allow you to sit in your car until the treatment room is available.
New Patient Scheduling
To ensure your safety, dentists are introducing a new form of appointment setting at their office. In addition to family-friendly visits that allow you to bring six family members on the same trip, dentists are also using sequenced patient scheduling. This means that they are allowing more time between each appointment to thoroughly clean. Plus, it decreases the number of patients in the office at any given time, which makes social distancing a practical reality.
Extensive Sanitation Measures
Handwashing and sanitizing are crucial in reducing the spread of germs and viruses. Although your dentist has always practiced infection control protocols, additional measures are being added to create a sterile environment. Below are eight extensive sanitation practices you can expect at your next visit:
Personal hygiene standards from the staff (i.e., no long nails, no nonessential jewelry, etc.).
Hospital-grade hand sanitizing stations for you to use before and after your visit.
Thorough cleaning between each appointment.
Deep cleaning of the dental practice every evening.
CDC-approved instrument sterilization.
HEPA air filtration.
No communal activities (i.e., toy chests, magazines, etc.).
Additional personal protective equipment (i.e., face shields, shoe coverings, etc.).
Designated Safety Champion
To ensure that their office is as safe as possible, dentists and their teams are undergoing additional training to enhance their knowledge and preparedness. Each day, one staff member will be assigned as the designated safety champion. In this role, they are responsible for advocating for the safety of everyone in the office by ensuring infection control guidelines are being upheld to the highest degree.
These measures take time and talent to execute effectively, but your dentist is happy to implement them to provide you with a secure environment. With these additional infection control procedures in place, you can preserve your oral health without compromising your safety!
About the Author
Since receiving her Doctor of Dental Medicine from Tufts University School of Dental Medicine in 2011, Dr. Durga Devarakonda has practiced pediatric, general, and geriatric dentistry. Her extensive background and experience have allowed her to serve patients from 1 to 100 years in age! She is also a member of multiple prestigious dental organizations, like the American Dental Association. If you would like additional information on how Dr. Devarakonda is ensuring the safety of her patients during COVID-19, visit her website or give her a call at 972-245-3395.
Comments Off

on Dental Safety During COVID-19: How Your Dentist Is Preparing For Your Visit
No Comments
No comments yet.
RSS feed for comments on this post.
Sorry, the comment form is closed at this time.