July 7, 2020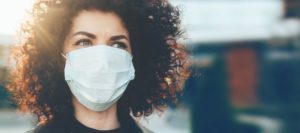 Staying home and practicing social distancing are the best ways to protect yourself and others in the COVID-19 pandemic. However, if your biannual dental checkup is coming up, should you venture to your dentist's practice? While you may be tempted to postpone it, this can easily allow little dental problems to grow into serious oral health issues. Your Carrollton dentist explains why routine checkups are so important and what they're doing to keep you safe when you visit their practice.
The Importance of a Simple Dental Checkup
The dental checkups and cleanings you get twice a year are about so much more than spotting cavities and polishing your teeth! Each one includes a thorough dental exam, which contains:
X-rays to search for issues beneath the gumline, like hidden abscesses or an impacted tooth.
Inspection of teeth, which can reveal bad habits and damage you may not have noticed yet.
A gum health check to look for indications of a serious bacterial infection known as gum disease.
Oral cancer screening, where your dentist will check your mouth, jaw, face, and neck for abnormalities.
Leaving any of these oral health concerns untreated can lead to permanent damage, extreme discomfort, and sometimes even severe illness. However, they can all typically be treated successfully if detected early during your routine dental checkup.
Keep Yourself & Your Mouth Healthy in COVID-19
While many cases of COVID-19 are mild, it can cause life-threatening complications for some. Those who are older, have an underlying health condition, or have a weakened immune system are at a higher risk of becoming very sick from COVID-19. The longer you leave problems like cavities, broken teeth, or gum disease untreated, the more energy your immune system will spend combating them. This leaves your body less capable of fighting off viruses like COVID-19.
How Your Dentist Keeps You Safe in the Pandemic
Now and always, your dentist's top priority is your wellbeing. They've always taken extra precautions to keep you safe from sicknesses like the common cold and the flu, but their ambitious levels of sanitation are even higher now. To ensure their patients and staff are as safe as possible, a variety of new COVID-19 safety protocols have been put in place, like:
Advanced COVID-19 training and daily health checks for every team member.
Sequenced scheduling, family-friendly appointments, and expanded visits to limit your exposure to other patients.
Antimicrobial mouthwash, hospital-grade sanitizer, and no-touch temperature checks for every patient.
HEPA air filtration, state-of-the-art chairside suction, and frequent office cleanings to ensure the practice is as germ-free as possible.
Virtual waiting rooms and changes to the reception area to make social distancing a practical reality when visiting the office.
The COVID-19 pandemic may have changed some of your priorities, but it hasn't changed the importance of your routine dental checkups. If you choose to visit your Carrollton dentist during the pandemic, you can rest assured that they are taking every precaution to keep you and your smile healthy.
About the Practice
At DD Family Dentistry of Carrollton, nothing is more important than the wellbeing of our patients, staff, and the community of Carrollton, TX. We have been monitoring the COVID-19 pandemic closely and have added 26 new infection control protocols to our ambitious levels of care in response. Now and always, we encourage all our patients to practice excellent at-home oral hygiene and recommend you come in for your dental checkups every six months. If you'd like to learn more about our Commitment to Safety, we can be reached via our website or at  (972) 245-3395.
Comments Off

on Why You Shouldn't Put Off Your Checkup Because of COVID-19
No Comments
No comments yet.
RSS feed for comments on this post.
Sorry, the comment form is closed at this time.