December 15, 2021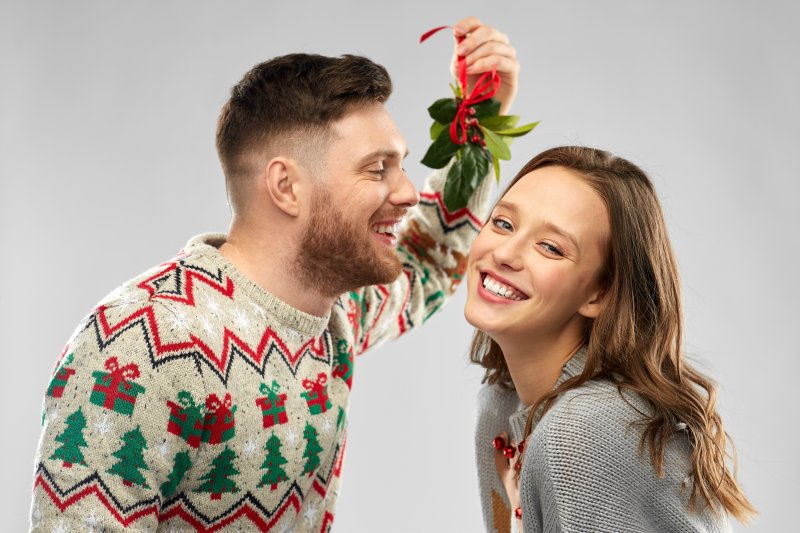 The temperature is dropping, the days are getting shorter, and the end of the year is approaching quickly. Do you know what that means? The holiday season is officially in full swing! If you have a significant other, kissing them underneath the mistletoe is likely on your Christmas wish list this year. However, you'll want to ensure your oral health is in tip-top shape before that happens. Read on to learn six ways you can make yourself more kissable this holiday season.
Practice Good Oral Hygiene
Did you know that cavity-causing bacteria can spread from one person to another? It can even transfer through something as simple as sharing a fork! To keep your smile cavity-free, make sure you take proper care of your teeth and gums. Brushing your teeth twice a day for two minutes each time, flossing daily, and rinsing with antiseptic mouthwash are excellent at-home practices you should be following every day. Not only will it keep your smile healthy, but it'll lead to cleaner kisses!
Keep Your Breath Fresh
Everyone has had bad breath at some point in their lives. Even though it's common, it doesn't make it any less embarrassing. Luckily, one of the best ways to keep your breath smelling fresh is by regularly brushing and flossing. You can also rinse with an antimicrobial mouthwash and chew on sugar-free gum to freshen your breath instantly.
Don't Share a Toothbrush
Do you keep a toothbrush at your partner's place? For many couples, that's a significant step in a relationship. However, you'll want to make sure you each have your own. Sharing toothbrushes means sharing germs and introducing unwanted bacteria to your mouth.
Brighten Your Smile
If you have staining and discoloration on your teeth, a professional whitening treatment can eliminate them in no time. Not only will your smile look brighter, but you'll feel more confident – and it'll show! Ask your dentist about their teeth whitening services or their over-the-counter product recommendations. They'll give you an expert opinion on the safest, most effective way to achieve your desired results.
Kick Bad Habits to the Curb
Smoking and using tobacco products aren't only bad for your overall health – they can contribute to bad breath and stain your teeth. In fact, people who partake in these bad habits are more likely to get gum disease than someone who doesn't smoke. Smokers are also at an increased risk of oral cancer, a life-threatening disease. This Christmas, give you and your loved ones the gift of kicking these bad habits to the curb.
Visit Your Dentist Regularly
A healthy smile requires more than just brushing and flossing. Visiting your dentist regularly for checkups and cleanings allows them to prevent, detect, and treat oral health issues before they turn into complications. They'll be able to keep your mouth in its very best shape all year long!
Before pulling your significant other underneath the mistletoe, make sure your oral health is in its very best shape. By following the tips outlined above, you can make yourself irresistible this holiday season!
About the Practice
At DD Family Dentistry of Carrollton, we strive to make every visit as comfortable, relaxing, and enjoyable as possible. Our goal is to help you achieve and maintain your happiest, healthiest smile. For more ways to keep your oral health in tip-top shape this holiday season, visit our website or call (972) 236-7906.
Comments Off

on 6 Ways to Make Yourself More Kissable This Holiday Season
No Comments
No comments yet.
RSS feed for comments on this post.
Sorry, the comment form is closed at this time.