April 24, 2022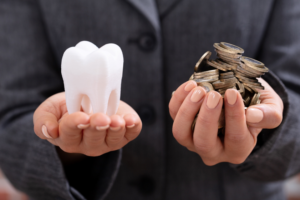 The deadline to file your 2021 tax return is right around the corner; however, many Americans have already received their refund. If your tax refund is burning a hole in your pocket, don't spend it on a lavish vacation or shopping spree. Instead, put the money to good use by investing in your smile. Here's how you can maximize your refund to achieve the healthy, beautiful smile you deserve.
1. Schedule a Cleaning and Checkup
Did you know 92% of adults have had at least 1 cavity in a permanent tooth and 50% of Americans have gum disease? Both are leading causes of tooth loss, but they are preventable. Your toothbrush and floss aren't enough to keep them at bay. The American Dental Association also recommends a cleaning and checkup every 6 months.
Routine dental appointments remove plaque and tartar buildup missed by brushing and flossing. It also allows your dentist to monitor your oral health to detect issues while they are still small. This lessens the need for a costly treatment later to reduce your long-term oral health expenses. Research has shown every $1 spent on prevention can save up to $50 on restorative services. Scheduling a cleaning and checkup is a simple solution to cut future dental costs while achieving a healthy smile.
2. Get the Dental Work You Need
It's not uncommon for people to delay a dental procedure because they don't have the extra cash to pay for it. Unfortunately, without quick care, a small cavity can turn into an infected tooth. Although you may never expect it to happen to you, 1 in 6 Americans has a dental emergency annually. You can avoid a costly bill down the road by treating any dental issues you have been ignoring, like a cavity or deep cleaning.
3. Fix Your Bite and Alignment Problems
The alignment of your teeth is more than just an aesthetic issue. Their positions can affect your oral health and functions. Whether you missed your chance for braces as a teen or your teeth have shifted over the years, you're never too old to invest in a straight smile. Use your tax refund to correct your bite and alignment problems. If you are concerned about the appearance of brackets and wires, you can invest in a nearly invisible solution using clear aligners.
4. Give Your Confidence a Boost
If you are unhappy with the way your teeth look, you know firsthand the weight it can place on your self-esteem. You won't have to worry about your aesthetic imperfections being the focal point of your smile. Give yourself the gift of confidence by using your tax refund to fix chips, cracks, or discoloration.
Don't throw your tax return down the drain. Use the extra cash to achieve a smile you'll be proud to show off.
About Dr. Durga Devarakonda
Dr. Devarakonda earned her dental degree at the Tufts University School of Dental Medicine before continuing her training in general and geriatric dentistry. As a member of various professional organizations, including the American Dental Association, she has the qualifications you can trust. Contact our office today to schedule your consultation.
Comments Off

on Use Your Tax Refund for a Healthy Smile
No Comments
No comments yet.
RSS feed for comments on this post.
Sorry, the comment form is closed at this time.