July 7, 2022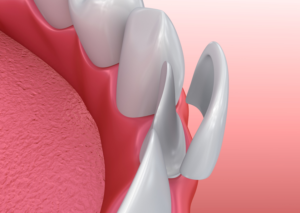 Veneers are designed to serve as a long-term solution when correcting a variety of imperfections. Although various factors affect the lifespan of your new smile, it isn't uncommon for a veneer to come loose over time. If your veneer fell off, don't panic! Here's what you can do to safeguard your investment. 
What Causes Veneers to Fall Off?
If you have had a veneer break or fall off, the damage could be the result of several underlying problems, including:
Age: The average porcelain veneer lasts for about 10 years before needing to be replaced. As time passes, the dental cement holding your veneer to your tooth can weaken.
Improper Bonding: If a new veneer suddenly pops off, there's a good chance it wasn't bonded to your tooth correctly.
Tooth Decay: Although veneers aren't subject to decay, your underlying tooth can still get cavities. Severe decay can cause too little surface for your veneer to remain bonded to your tooth.
Bad Habits: Veneers are durable, but they aren't indestructible. Chewing on ice, biting your fingernails, or other bad oral habits can damage your veneers and shorten their lifespan.
What Do I Do If a Veneer Falls Off?
A lost veneer can stick out like a sore thumb, but it is best to leave the repairs to the professionals. There are OTC kits; however, you don't want to repair the veneer on your own. Depending on the underlying cause, like decay, replacing the veneer without treating the problem can lead to a dental emergency.
Your cosmetic dentist recommends skipping any glues or adhesives. Superglue can contain toxic chemicals and cause allergic reactions. Not to mention, it doesn't hold up well in moist environments, so the repair won't last long.
It is best to contact your dentist to have the veneer rebonded or replaced. While you wait for your appointment, place the veneer in a container in case your dentist can reuse it to restore your beautiful smile. Avoid biting or chewing with your tooth until after the veneer has been replaced. Your dentist will advise you to skip hot or cold foods and drinks to prevent sensitivity. Keep your mouth clean until you see your dentist.
They will get you into the office quickly to restore the smile of your dreams. Your dentist will examine your mouth to create a personalized treatment plan, so you can get back to your day with the beautiful, confident smile you deserve. In some cases, they can rebond the same veneer to your tooth, while other patients may need a replacement. Don't worry, your dentist will explain everything to make a stressful situation easier.
About Dr. Durga Devarakonda
Dr. Devarakonda earned her dental degree from the Tufts University School of Dental Medicine and completed advanced training in general, pediatric, and geriatric dentistry. As a member of various professional organizations, including the American Dental Association, she has the qualifications you can trust. If you need to have your veneers replaced, contact our office today to request your consultation.
Comments Off

on What to Do If a Veneer Falls Off
No Comments
No comments yet.
RSS feed for comments on this post.
Sorry, the comment form is closed at this time.