December 8, 2022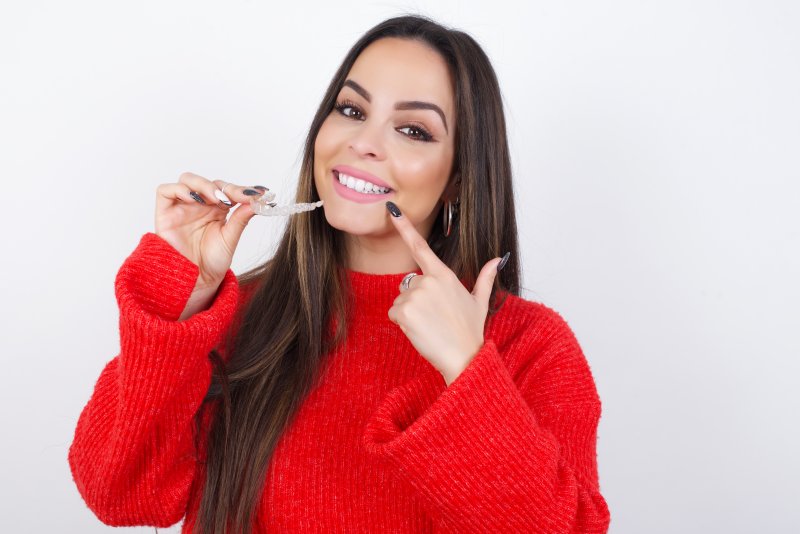 Are you currently undergoing Invisalign treatment? This orthodontic option is favored by many for its nearly invisible appearance, lack of dietary restrictions, and removability. With the holidays quickly approaching, people who are entering their first season with Invisalign may be wondering if this treatment will make things look different for them this year. So that you can ensure that your smile stays on the right track, continue reading for some helpful tips.
Tip #1: Wear Your Invisalign
Invisalign works in the same way as traditional braces. The clear aligners move your teeth into a more ideal position over a series of several months to several years. For treatment to be as effective as possible, you need to wear your trays for at least 20-22. Not doing so may put your treatment plan off track. Make a point of only taking off your trays to eat and putting them back on once you're done.
Tip #2: Take Your Aligners Off When You Eat
As previously mentioned, the only time that you should remove your trays is when you eat. This is because not doing so may cause them to become stained, warped, or otherwise damaged. You can leave them on when drinking water, but make sure to remove them during meals. This is also a great time to soak your aligners, which will get rid of bacteria that have built up on them throughout the day.
Tip #3: Brush and Floss Your Teeth
Brushing your teeth once in the morning, once at night, and flossing once daily isn't enough when you're going through orthodontic treatment. If you don't clean your teeth after each meal, this will allow food to build up on your smile. This raises your chances of developing cavities and can also lead to stained aligners. Clean your teeth thoroughly after meals to avoid complications.
Tip #4: Keep an Invisalign Case on Hand
When you take off your trays to eat or drink, don't place them on a napkin or somewhere else unsafe. This may result in them getting lost or being thrown in the trash. Instead, store your aligners in a protective case. This will keep them safe as well as sanitary while you eat.
Invisalign treatment is a great way to improve the look of your smile so you can start feeling more confident in your beam. So, make sure that you're diligent about caring for your teeth and aligners. This will allow you to make it through the holidays with your smile still on the right track!
About the Author
DD Family Dentistry of Carrollton is a DFW-based practice that focuses on giving their Texas patients the compassionate, effective care they deserve. They are led by Dr. Durga Devarakonda, a skilled dentist who has trained tirelessly to sharpen her skills and hone her craft so she can continue offering you and other patients in the Carrollton area the best possible quality of care. She offers treatments like Invisalign to correct gapped or crooked smiles and give your beam the upgrade you've always wanted. To make an appointment with Dr. Durga Devarakonda and her team at DD Family Dentistry of Carrollton or for more information, call (972) 245-3395 or visit their website. 
Comments Off

on 4 Invisalign Tips for the Holidays  
No Comments
No comments yet.
RSS feed for comments on this post.
Sorry, the comment form is closed at this time.