May 18, 2023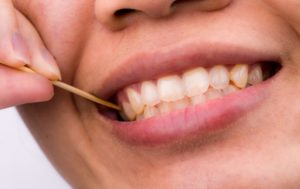 There are no words to describe that frustrating feeling when a piece of food gets lodged between your teeth, making you feel uncomfortable until it's removed. However, there are a select few foods that are notorious for becoming trapped in your mouth, causing you to desperately search for a toothpick or dental floss. Read on to learn four of the worst foods known for getting stuck between teeth and why you should always have floss picks handy.
What are the Worst Foods to have Stuck Between Your Teeth?
Popcorn: Popcorn kernels are hands-down the worst food to get stuck between your teeth because they're so hard to get out! They can even hurt if they get lodged between your tooth and gumline.
Meat: Whether it's chicken, beef, or any other meat, having strings get lodged between your teeth can feel uncomfortable and irritating, especially those that you eat on the bone, like wings and ribs.
Corn: Corn on the cob is a summertime staple, but if you're serving it at a family barbecue or cookout, be sure to have toothpicks and floss on hand. When you bite down on the cob, it can cause the corn kernel to become stuck deep between your teeth, making it seem impossible to get out.
Bread: White, wheat, and other loaves of soft breads can become glued to the roof and floor of your mouth as well as between your teeth due to mixing with your saliva. Not only is this uncomfortable, but carbs also help fuel harmful oral bacteria. This means that if the bread is left around for too long, it can increase your risk of developing cavities!
Using Toothpicks vs. Dental Floss
If you commonly fall victim to the foods above, it's a good idea to keep a small bag of dental floss picks on hand to remove them from your teeth. While it's not bad to occasionally use toothpicks, if you use them regularly, it can increase your risk of damaging your gums due to their pointed tips as well as cause gaps to develop between your teeth with time, especially if you always rest them between the same teeth.
If you ever find yourself in a situation where a day has passed and brushing and flossing still hasn't worked to remove the food between your teeth, call your emergency dentist for assistance. It's important that you don't use anything sharp to try to fix your problem, because it could result in other concerns.
About the Author
Dr. Durga Devarakonda is a passionate dentist with over a decade of experience under her belt. She offers a large menu of services, ranging from routine checkups and cleanings to same-day emergency dentistry to get her patients out of pain. With experience treating patients of all ages, she's able to provide whole families with the attentive, high-quality care they deserve. For questions or to schedule an appointment, visit DD Family Dentistry of Carrollton's website or call 972-236-7906.
Comments Off

on The Worst Foods to Get Stuck Between Your Teeth
No Comments
No comments yet.
RSS feed for comments on this post.
Sorry, the comment form is closed at this time.