October 16, 2017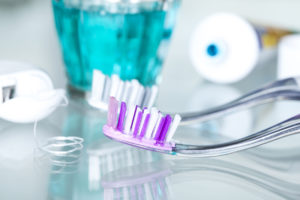 As your local dentist, our office sees many patients with a coated white tongue.  Whenever this scenario arises, they usually have gum disease, bad breath, and other dental problems as well. Why is that and how can your local dentist help? We've created a quick guide to understanding why tongue's turn white and also how to fix that dental issue.
3 Things That Cause a White Tongue
Poor Dental Hygiene Routine
According to the University of Basel in Switzerland, 60% to 80% of your mouth bacteria are located on your tongue !The rest of the sticky plaque exists between teeth and along the gum line. Our mouth and tongue shape provide an optimal environment for this bacteria and dental debris to multiply. Without an effective dental cleaning routine to keep your mouth clean, you will experience oral health issues that originally are from excessive plaque buildup.
Your Lifestyle
Everything from dehydration, stress, smoking, alcohol and the food you eat can contribute to developing a white film on your tongue. It is now thought that tongue piercings and meat consumption could also be factors in the plaque buildup on your tongue.
Medical Conditions
There are some medical conditions that can cause the white coating on your tongue including dry mouth, hairy tongue, sinusitis and postnasal drip. Also conditions like advanced gum disease, gingivitis, and dental cavities thrive because of the bacteria on your tongue. So, cleaning your tongue twice a day can make a significant difference in fixing these dental problems.
There's Good News: We Have Solutions!
The good news is, that 9 out of 10 people can eliminate white tongue and the resulting in chronic bad breath (halitosis), by having an effective teeth cleaning routine, and by visiting your dentist or dental hygienist just once per year.
Follow These Steps:
Use  floss as the most effective way to clean the plaque between your teeth. Remove it from your mouth and avoid it to turning into harmful tar that causes gum disease (gingivitis) and the white coating on your tongue.
Before brushing, clean your tongue with a tongue scraper. Start from the back of the tongue and scrape the white film off towards the front tip. Do this twice a day.
Then brush your teeth twice a day as well.
Complete your teeth cleaning routine with a 30 swish of mouthwash.
Can you believe it's that easy?
Spending just 10 minutes every day on your dental hygiene routine will result in a healthy tongue and disease free gums. Which means you'll get rid of embarrassing smelly breath and the white coating on your tongue. Your dentist can also help you achieve your oral health goals as well.
---
About Our Office
After just a short time of visiting DD Family Dentistry, you'll not only have a beautiful smile, but you'll also have way more confidence.  When interacting with friends, colleagues and loved ones, you can speak with conviction and show off your bright teeth, knowing you're not subjecting them to bad breath. If you would like to schedule a deep cleaning and dental exam with our office to receive real results fast, feel free to call our friendly office team.
Comments Off

on Dentist Explains 3 Reasons Why Your Tongue Is White
No Comments
No comments yet.
RSS feed for comments on this post.
Sorry, the comment form is closed at this time.